Interview with Paul Cheung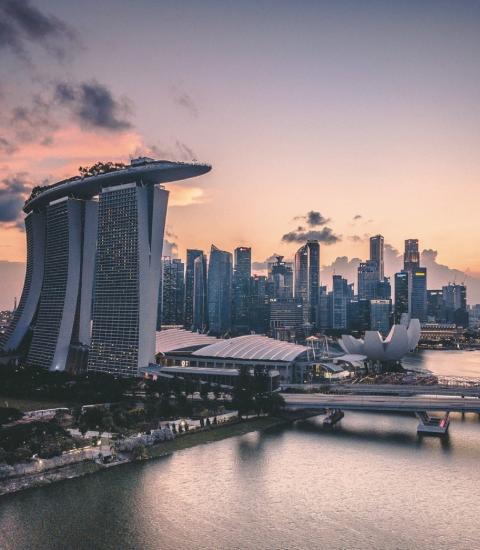 11 December 2019
"Integrity, professionalism and service to the nation." Having been in this field for so long, I think these three words sum up what official statistics, what the profession is all about. 
---
By Katherine M. Condon, Ph.D., Interview Editor - SJIAOS
Paul Cheung is Professor of Social Policy and Analytics at the National University of Singapore. He served as Director of the United Nations Statistics Division (UNSD), Department of Economic and Social Affairs at the United Nations Headquarters in New York (2004-2012). He was the Chief Statistician of the Government of Singapore (1991-2004). He was the Director of Population Planning in Singapore (1986-1992). Professor Cheung is the recipient of numerous national and professional awards including recognitions from the governments of Singapore, China, Cambodia and Mongolia.
In the interview, Dr Cheung shares his educational background and professional career. He talks about projects in Singapore and at the UN such as the Initiative in Global Geospatial Management (UN-GGIM), his vision for 'the Big Data era,' and data integration. We hear about his involvement with the first ever World Statistics Day where he came up with the caption: "Integrity, Professionalism, and Service to the Nation Capture the True Spirit of Official Statistics." He also reflects on the future of official statisticians stating: "At the end of the day, there are many different ways of getting results. We have to stay on top of it. Official statistics cannot afford to be too conservative. We do our work well, but we must allow ourselves room to absorb new methodologies." Finally, he shares his vision for the IAOS. Professor Cheung is a former president of the association (2001-2003).
Interviewer: Let us start by talking about your personal background and your education. We understand you have training in demography as well as statistics. We are both demographers working in government settings as statisticians, so we feel we share some common ground and we are eager to hear about your educational path.
I grew up in Hong Kong. My parents arrived there as refugees. The government of Singapore gave me an educational scholarship and I came to Singapore. At the time, both Hong Kong and Singapore were developing very fast, and there were many opportunities. It was a good time, although it was in the period following the Vietnam War, in the 1970s.
After receiving a bachelor degree from the University of Singapore, I was again fortunate to earn a scholarship, this time to do graduate studies in the United States. I received a Master's degree in Sociology and Demography and a Master of Social Work (Social Planning) degree from the University of Hawaii and the East-West Center in Honolulu as well as a Certificate of Population Studies from the University of Hawaii and the East-West Population Institute.
Interviewer: Is the educational experience different in the United States?
Yes, it was a different experience. There are differences between being a student in Asia and studying in the United States. In Asia, at the time, there was less technology involved. I was fascinated by computers and everything I could do with them; the automated data libraries, and so on.
Another difference was the level of competition. In Asia, education was very competitive. There were many opportunities, but you had to do well in order to achieve them. The competitive environment has changed, but in countries such as Korea, it is my understanding that children as young as 12-13 years old are still expected to study at least 16 hours a day. It is not that way in the United States.
Interviewer: How did you get interested in Demography?
The field attracted me for many reasons. While I was studying in Hawaii, the Value of Children project got under way in the late 1970s, early 1980. I met many scholars involved with that project. Scholars such as Peter Xenos, James Fawcett, James Palmore and Robert Retherford. People such as Griffith Feeney who is now in Boston or New York, or somewhere on the East Coast. The Value of Children project laid down many important principals about why people have children, the cost and benefits of children.
Interviewer: I got my training at the Population Center at the University of North Carolina (UNC)-Chapel Hill. I know many of the demographers there would collaborate with researchers at the East-West Center.
Yes. Ron Rindfuss (UNC-Chapel Hill) would come every winter. So would James Sweet from Wisconsin. It was a good time to be at the East-West Center.
There were several other centers where you could do population studies. In addition to UNC, the University of Michigan, the University of Chicago, the University of Texas at Austin come to mind. But there were other places. Studying at the East-West Population Institute was a great experience. All demographers like to come there to do research. It is a famous place and it is the gathering place for demographers.
While I enjoyed my time in Hawaii tremendously and benefitted from all the big names in demography that the East-West Center attracted, I realized that Hawaii was not the place where I should study for my PhD. There were too many distractions.
I moved to Ann Arbor, Michigan. This came about because Ronald Freedman came to Hawaii. He interviewed me, and invited me to come to the University of Michigan. There, I was able to study demography under Albert Hermalin and William M. Mason, and others at the Population Studies Center. It was a very strong program.
I was also able to study other subjects as well and I ended up with a joint PhD in Social Work (Social Planning) and Sociology (Demography) from the University of Michigan in 1983. I was able to combine my knowledge in social policy and population planning with insight in social architecture, the social services. The design of the PhD program allowed me to come away with an applied angle.
Interviewers: Interesting! Sociology, Economics or Statistics are the fields usually combined with the study of Demography. Social Work is not the usual choice.
My education was very well rounded. I took econometric courses from scholars such as Jan Kmenta and bio-statistics courses. I got exposure to a variety of disciplines. I was not stuck with a theoretical framework, such as for example the theory of economics, but I was able to learn the methods and the techniques. I could apply information in my own way from different disciplines and utilize different perspectives. In thinking back, it was very useful and it has worked well for me.
Interviewers: This is good transition for our next topic. Tell us about your professional career.
When I returned to Singapore, in the beginning of my career, I taught at the University of Singapore for a couple of years.
Asia was still developing and there was a great interest in matters pertaining to the growth of the population. There was much funding from developed countries for global family planning in developing countries. For example, the USAID invested a lot of money in family planning programs. There was so much money in demography. Singapore did not get as big a share as countries such as Thailand, the Philippines and Indonesia. Demography was at a high point in the late 1970s and the early 1980s. Now, the money has dwindled.
In Singapore, they were looking for demographers. Very soon, I got involved. When I first came back, the population policy was anti-natalist. 'Stop at Two' was still the slogan of the day. But when you looked at the numbers you realized that the average family size was actually way below two here and that low fertility was going to be a much bigger problem than over-population for Singapore.
Everything I had studied, everything I was taught by Freedman and Hermalin and the other professors at Michigan talked about over-population. I realized that it was not what was going on in Singapore. It did not apply here. I could still use the same theories about why people have babies and why people do not have babies, but I needed to turn the whole argument around. Instead of thinking about population growth, and over-population, I was looking at below-replacement fertility. An entire different perspective.
Today, in Singapore, the Total Fertility Rate (TFR )is about 1.2 and it has been lower. This year, there has been a slight upswing, perhaps because of 'Dragon-babies.' (According to ancient beliefs, the year of the Dragon is the luckiest of the lunar years. It is usual to observe temporary fertility increases in the Chinese population in Dragon years.)
Below-replacement fertility has become a problem for other countries. The entire region has experienced this. Japan serves as an example. Their TFR dropped below replacement in the middle of the 1970s, reaching its lowest level (1.4) in 1995, a level it has maintained to this date.
The population policies in Singapore changed in the 1980s to become pro-natalist. But the strategies have not worked. The question remains, "Why is our fertility so low?" In Europe, they identified the problem earlier, and they too have tried to do something about it without success.
Anyway, after teaching for a couple of years, the government called me up. It was the realization that the country was in a difficult situation. From 1986-1992, I served as the Director for Population Planning. We were the first Asian country to introduce a pro-natalist policy. We looked at the long term projections, looked at numbers long into the future, and we took them seriously. In 1987, we launched a new policy. Instead of telling people to stop at two, we told them to stop at three. We offered a lot of incentives. We reduced the cost of childbearing, and we reduced the cost of childrearing. We tried to address all aspects of having a child. We introduced social policies to support our efforts.
The old social policies were anti-family. We tried to change that to encourage larger families. We tried to be ahead of the curve.
As an aside, let me tell you that we started formulating a pro-natalist population policy in 1986 and as I stated, we launched the first campaign in 1987. The USAID was not too happy with us. And then, right away, in 1988, we immediately saw an upturn in fertility!
I should tell you that 1988 was the year of the Dragon. We were not as successful in the years that followed, but we got off to a good start.
---
This is a preview of an interview conducted for and published in the Statistical Journal of the IAOS. The full interview can be read here.